Back at the end of December I blogged about starting the quilting on this bed runner -
Of course Christmas pushed itself to the forefront (as it should) and I put the sewing machine away in favor of glitter and holly and all things Santa Claus. Time to get back to my quilting plan.
I've got the thread picked out. I'll be using the color in the front, it's a nice oliveish green and blends really well. Since I'm going to be trying machine embroidery quilting on this I don't want the thread color to stand out too much. I have a feeling I'll need to hide some mistakes along the way!
I stitched out the designs I'm using onto heavy weight stabilizer and marked the registration lines. The stabilizer will be sturdier than paper in the long run I think. This is the corner design.
This is the border design. I'll be using these templates to figure out the placement and spacing.
Here's a sneak peek at the first stitch out. This looks awesome! If only I can get the spacing right I think it will turn out so nice.
My goal is to have this bed runner completed by the end of January. To hold myself to that I'm linking up to the Red Letter Quilt One Monthly Goal Linky Party. Today is the last day to link up so I'm just barely making it to this month's party - that's me all right always late to the party! Check out the other quilter's goals and consider what you might like to accomplish in a month.
This looks like a contradiction of my Live in the Moment post from Tuesday but I did say I liked to set goals for myself, I'm just trying not to sabotage myself with long term, unobtainable goals. So, monthly goals may be just my speed right now.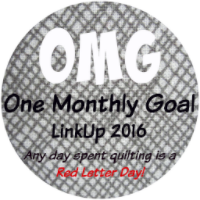 Until next time,