Pretty excited to have actually made the deadline for my January One Monthly Goal Link Up! This bed runner project was a challenge for me and I'm so glad I stuck it out.
The quilting was done entirely in the hoop on my embroidery machine. I watched a lot of YouTube videos and just decided to go for it.
I bumped up the contrast in this photo so you can see the quilting a little better.
The binding is also done entirely by machine. A good place to try out those fancy stitches. Since this is intended to be a bed runner I anticipate that it might get a fair amount of washing so I need it to be sturdy.
Hard to see the quilting but I'm happy with three of the four corners. I quilted the corners first and messed up the placement. I should have waited to quilt the corners until after I had done the borders, it would have been easier to determine where the corners should be relative to the borders. Lesson learned.
Bed runner measures 80"x25"
Linking up to One Monthly Goal Linky Party at Red Letter Quilts. Thanks Heidi for the push to get things done!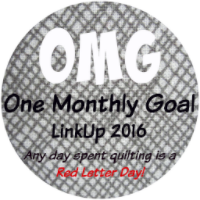 If you want to see the posts about the whole embroidery machine quilting process here are the links:
Trying a Change of Pace
My First Quilty Goal of the Year
What I Should Have Done
Until next time,