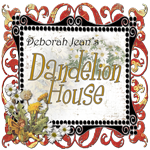 FEATURED FARMGIRL at Deborah Jean's Dandelion House
My Homemade Ice Cream post was featured here. How cool is that? Deborah Jean has a blog hop every Friday where you can share all about your urban or suburban homestead. Her site is so interesting and the photos are to die for.
Thanks for the shout out Deborah Jean.
Until next time,